State-of-the-art Testing Facilities
All the materials used in manufacturing of Welding Consumables are being tested before use.
Each batch of these consumables undergo various process control stage inspection for physical and dimensional accuracy. Final testing on weld metal is carried out by way of wet chemical and Spectro Testing, Mechanical and NDT Test to ensure the best and consistent quality.
Upon satisfactory clearance of all the testing, batches are being cleared for dispatches.
Quality Control testing labs are equipped with:
SPECTRO TESTING MACHINE for quick and accurate test results.
Diffusible Hydrogen testing of weld metal by Mercury method as per
ISO-3690.
Determination of moisture content in flux coating as per AWS.
Corrosion testing as per ASTM A-262 Standard.
Single stroke V-Notch cutting machine for impact test specimen.
Profile Projector to check accuracy of Notch Profile.
Impact testing at –196o C by use of liquid Nitrogen.
Metallographic studies.
Tensile testing at elevated temperature.
Hardness testing of all metals and Alloys.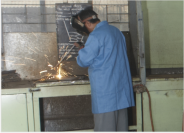 Need Help With D&H India Limited? We Are Experts!