D & H INDIA LIMITED
Formerly 'D & H Welding Electrodes (India) Ltd.'
D&H India Limited is one of the top welding companies in India to have received ISO 9001-2015 certification for quality standards for all it's manufacturing plants. All of them under one single certification is the indicative of consistency of manufacturing processes and quality assurance procedures. Most of the company's products have approvals from reputed engineering consultants and are certified by leading national/international inspection agencies.
D&H India's Research and Development strategy is to continually improve its welding processes. The company seeks to develop new, high-quality product families faster, with the primary focus on long-term benefits. The constant development of welding processes is an important part of this work and goes a long way in realizing the key objective of customer satisfaction.
The key objective of R&D is to meet customer requirements better. This is possible through higher productivity, enhanced and consistent quality improvement of the working environment, and reduction of environmental impact.
Late Mr. H. H. Melwani formed a Welding Electrodes manufacturing company with the collaboration of Switzerland in the year 1962. Under his leadership, the Company made remarkable success and was later on sold to an Indian entrepreneur.
In the year 1985, Mr. Melwani formed three more companies under the name and style of –
M/S D&H Welding Electrodes Bombay Pvt. Ltd.,
M/S D&H Welding Electrodes (India) Ltd., &
M/S D&H Sterling Ltd.
Mr. S. M. Vora is a known and prominent Industrialist of Indore in the Steel and Wire segment. His industries M/s Vora Wire Industries India Ltd., and M/s International Steels are engaged in the manufacturing of Steel Wires and Steel Products. He is a recipient of the Udyog Patra Award conferred by the Union of India and was nominated as Director of M. P. Laghu Udyog Nigam Ltd., and the President of the Association of Industries, Madhya Pradesh.
Mr. Melwani and Mr. S. M. Vora shouldered the responsibility of bringing up M/s D & H Welding Electrodes India Ltd., with Mr. Harsh Kumar Vora, who has vast experience in the fields of wire drawing and steel Foundry. Under the leadership and guidance of Mr. Harsh Kumar Vora the company attained today's level by installing modern machinery to manufacture welding electrodes, SAW Wires and Fluxes, CO2 Wires, Flux Cored Wire and Welding Machines, etc. By his effective management, the Company found a place among the top companies in the Welding Industry.
D & H India is one of the established manufacturers of Welding Consumables, promoted by renowned business personalities.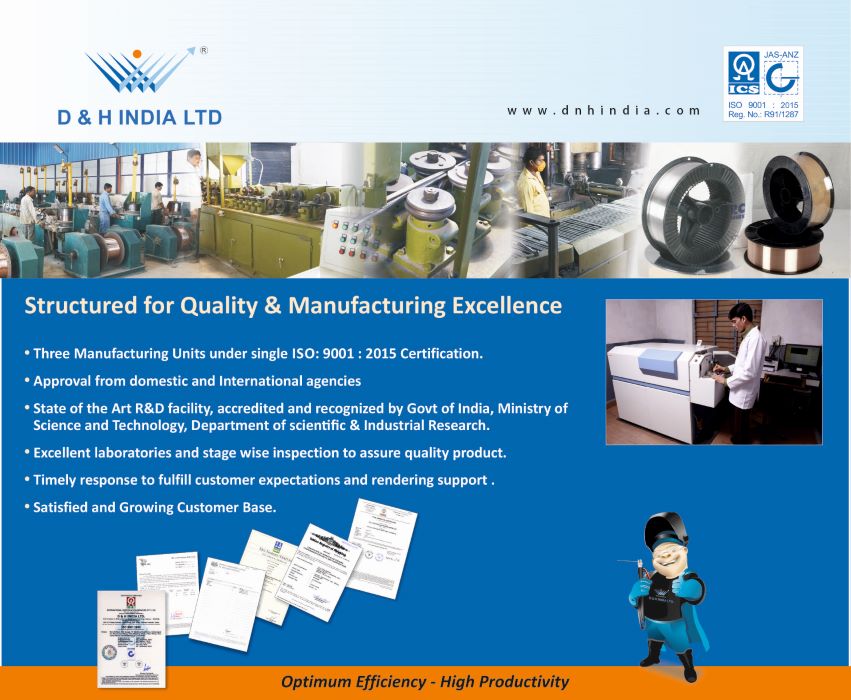 The Board of Directors comprises highly renowned professionals drawn from diverse fields. They bring with them a wide range of skills and experience to the Board, which enhances the quality of the Board's decision-making process. The brief profile of the Company's Board of Directors is as under:
Mr. Harsh Vora: Mr. Harsh Vora is a commerce graduate and has more than 35 years of experience in the industry. He is one of the core promoters of the Company and is key instrumental since the incorporation of the Company and the Company has grown under his dynamic leadership and strong management.
Mr. Saurabh Vora: Mr. Saurabh Vora is a B Tech and has 14 years of experience in industry.
Mrs. Atithi Vora: Mrs. Atithi Vora is a CA and has experience in the field of Taxation & Finance.
Mr. Sushil Rawka: Mr. Sushil Rawka is a Commerce Graduate and has experience in the field of Taxation.
Mr. Balraj Kishore Namdeo: Mr. Balraj Kishore Namdeo is a BE (Mech.), M Tech Mumbai, and has rich experience in the Petroleum Industry.
Mr. Eshanya B Guppta: Mr. Eshanya B Guppta is an MBA (Finance) and has experience in the field of Finance and taxation.
Mr. Sunil Kathariya: Mr. Sunil Kathariya is a BE (MECH), PGDBM, and has experience in various fields.
Mrs. Suhani Doshii is a Graduate, having a rich experience in industrial management.
Vision
Our Vision is to be globally known as a trustworthy partner to the core industry. We will earn our customers' enthusiasm through continuous improvement driven by the integrity, teamwork, and innovation of our people.
Mission
D & H India will be an evolving organization with an energetic, innovative, and environmentally conscious team. We are committed to being a trustworthy solutions-oriented partner to the core industry. Our goal is consistent growth to meet all stakeholder's expectations.
Our Values
Our values govern the guiding principles of our behavior, attitude, and actions. These values have been set out hereunder to ensure that we would act in unison as a cohesive entity. The Values comprise of the following :
Leadership through Quality – Aiming to achieve leadership in business growth, profitability, and technology by offering Quality Products and Services that shall be the best in their class.
Customer Focus – Ensuring that customer needs are identified and that the products and services meet these needs most effectively.
Competitiveness in National / International Markets – Ensuring that our products are of quality and are competitive in terms of value and service to the customers.
Innovation, the key to our Success – Strive to innovate and excel in everything we do in products, Safety, Value, Services, Human Relations, Competitiveness, and profitability.
Employee Involvement – In the belief that people are the source of strength to an organization, D&H (INDIA) shall foster teamwork and ensure that all employees treat each other with mutual trust and respect.
Acceptance of Suppliers, Distributors, and Vendors as Partners – Consciously promoting suppliers' and vendors' involvement in order to improve products and services and maintain mutually beneficial and dependable relationships.
Action Orientation – Setting a fast pace and responding quickly to changes is the key competitive strength to keep us ahead in today's fast-changing world.
Continuous Improvement – Continuous improvement in all our activities and processes sustaining us as a world-class organization.
Systems – Systems orientation would lead us to quality in our products and services as well as optimize the utilization of our resources.
Social Responsibility – Recognizing the obligation to society as an integral part of all business practices and maintaining high ethical and social standards in all dealings.
Numbers Speak For Themselves
Need Help With D&H India Limited? We Are Experts!